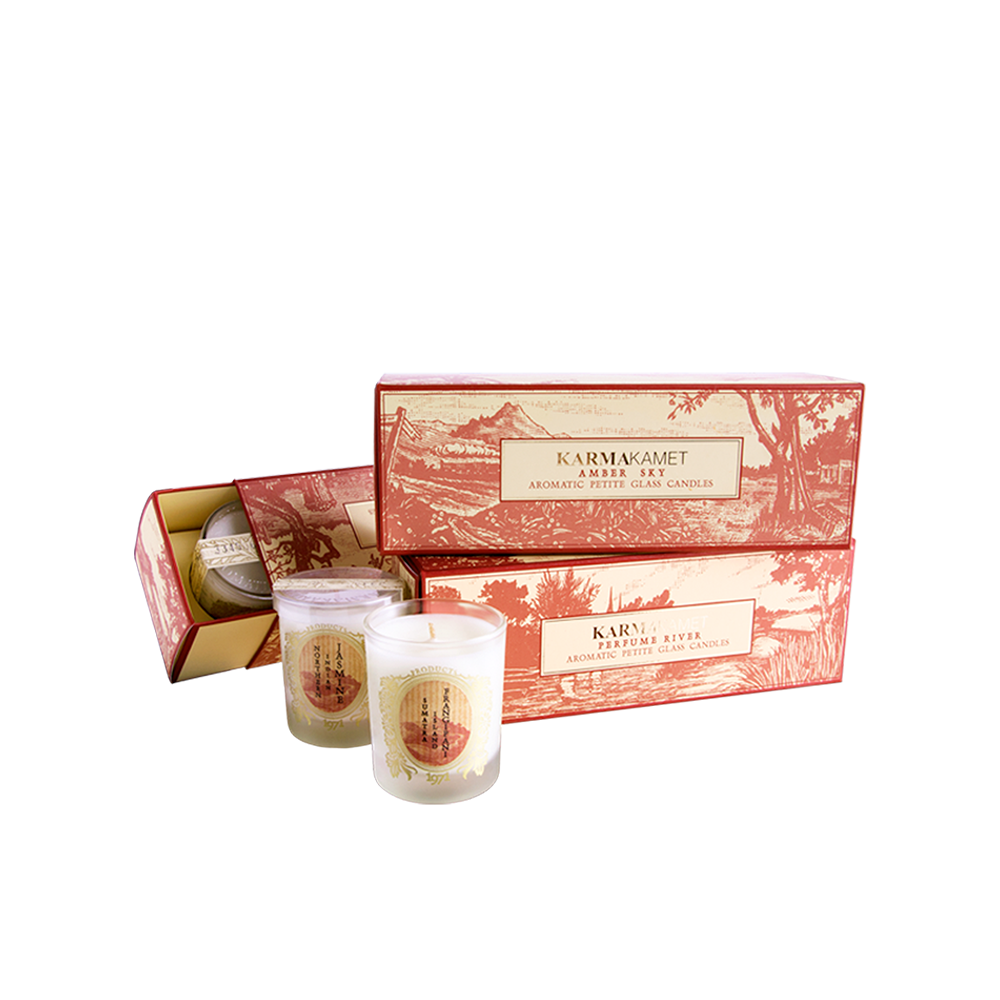 In stock
Aromatic Petite Glass Candle / Set
฿850.00
Contain : 3 pieces / box
Size : 60 g / piece
Create the glittery atmosphere with floral and green scents of Aromatic Petite Glass Candle. Light these candles and place them in any desirable areas. It is suitable for indoor and outdoor party. Each candle lasts about 15 hours.
Description

Additional information
Scent
1. Perfume River
Contains: Tasmanian Lavender, Siamese Lemongrass, Autumn Red Peach
2. Secret Garden
Contains: Moroccan otto of Rose, Sumatra Island Frangipani, Northern Indian Jasmine
3. Amber Sky
Contains: Javanese Vanilla, Tibetan Temple Sandalwood, White Grapefruit
Direction
1. This candle is made from natural soy wax and pure essential oil. The coverage area of one glass is 20-30 square meters.

2.Before use, always trim the candle wick to 5-6 mm and keep trimming it every 2-3 hours to avoid the unpleasant smoke.
3.Always keep the candle wick in the center for the perfect dissolution and diffusion.
Tip & Trick
1. Lighting up and putting out the candle frequently will not help saving the candle. On the contrary, the candle will be melted down faster than usual. For effective use, the candle should stay lit for 2-3 hours a time.
2. Overly long candle wick will create smoke and soot. Always trim the candle wick to 5-6 mm and keep trimming it every 2-3 hours to avoid the unpleasant smoke.
3. If the candle wick is too short to light, try removing the wax around the wick to make it easier to light.
4. To light the candle wick at the bottom of the glass, light a stick of spaghetti and use it to light a hard to reach candle wick.
5. To avoid the undesirable smoke, do not blow out the candle. Instead, put out the candle by covering the glass with its lid.
6. For effective use, always place the candle in the windward area that is lower than the person's head with the distance of around 1.5-2 meters from the user.
7. To avoid the unpleasant smoke, do not use the candle in the windy area e.g. nearby the window or outdoor area. Do not place the candle near the flammable items e.g. papers, plastics, clothes, etc. and do not leave it unattended.
8. Store at room temperature and keep away from damp and sunlight. Away ensure that the candle is well covered with its lid after use.
Storage & Cautions
1. For external use only.

2. Store at room temperature, away from direct sunlight.

3. Keep away from children and pets.

4. Do not place on or use with the leather or plastic materials.
| | |
| --- | --- |
| Weight | 0.621 kg |
| Dimensions | 20 × 7 × 7 cm |